Magnificent location between the ski resort and the high mountains
The cabins have Hafjell's best location on Mosetertoppen with ski in and ski out for cross country skiing as well as alpine skiing and snowboarding. They are perfectly placed in the sunny borderline between Hafjell Alpine center and Øyer Mountain, with 300 km prepared cross-country trails. During Summer you have the perfect starting point for hiking and trailing in the Øyer Mountains or downhill cycling in Hafjell Bike Park, one of the best bike parks in Europe. On Mosetertoppen you can also visit the restaurant Skavlen with its 230 seats and outdoor serving on the terrace. Hafjell offers an impressive range of activities all year round, and Mosetertoppen and the top of the Gondola is the starting point of many of them.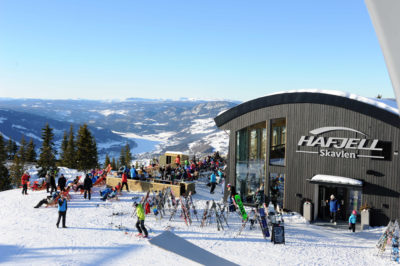 Mosetertoppen
At the top of the Gondola will you find the best family area in the Nordic Countries; Mosetertoppen. Here you have alpine slopes, parks and cross-country tracks for everyone. The whole family can enjoy their day of skiing with wide slopes, small jumps and fun slalom gates specially designed for the youngest children. You will also find Hafjell's culinary flagship, restaurant Skavlen which deserves a visit.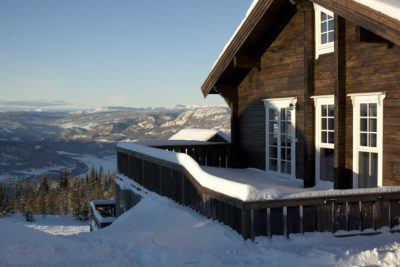 Mosetertoppen Panorama
With a sunny location and spectacular view, ski in and ski out to the lighted cross-country track and Hafjell's 33 slopes, the perfect starting point for hiking and trailing in the Øyer Mountains and downhill biking in Hafjell Bike Park, you find Mosetertoppen Panorama's luxury chalets and annexes. The cabins are exclusively furnished, have all modern facilities and offer a warm and cosy atmosphere.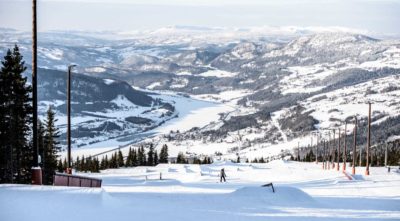 Backyard Lift
The Backyard Lift is 540 meter long and goes from Mosetertoppen Panorama and up to the Hafjell Gondola and restaurant Skavlen. You enter the Sæterslope, Kjusslope and Svegårdsslope from the area at the top of this lift and you will find Hafjell Main Park 200 meters to the right of the Gondola.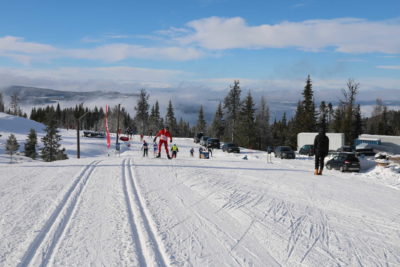 Lighted Cross Country Tracks
Norway's first cross country track with LED lightning. The track is 6 km long and 12 m wide with double classic trails and one skating trail. The track is part of Norway's largest network of cross-country tracks: Øyerfjellet – Nordseter – Sjusjøen, and gives access to 300 km prepared traks / 600 km tracks.

The Gondola
The Gondola is more than 2500 m long, and goes from Hafjell Alpin Centre in Øyer and up to Mosetertoppen. The Gondola is also operative during Summer and Atumn transporting turists and bicycle enthusiasts for hiking og trailing in the Øyer Mountains or downhill biking in Hafjell Bike Park, one of Europe's best bike parks.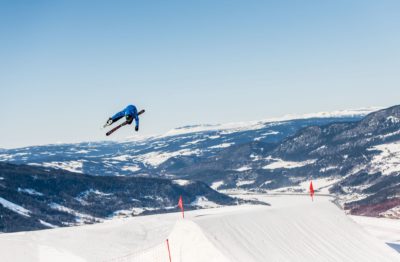 Hafjell Main Park
Main Park is located 200 meter from the top of the Hafjell Gondola. It is a level red/black park and is the perfect playground for the toughest and most skilled park enthusiasts. Here you find rails and jumps of 7-22 meters with Advanced difficulty level. The park has won several titles; as Norway's best park as well as of the world's ten best parks by International media. Today you can find the future ski and snowboard stars here, practising their jumps and tricks.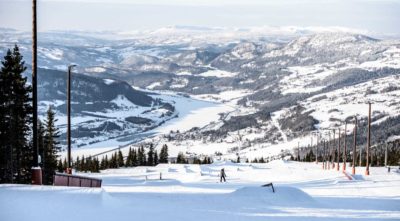 Backyard Park
Backyard Park lies between Hafjell Gondola and Mosetertoppen Panorama. In this park you will find boxes, rails and jumps of 1-7 meters. This is a nice park for beginners and intermediates as well as experts.